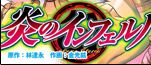 Aflame Inferno (Korean: 불꽃의 인페르노 (ㅂㅜㄹㄲㅗㅊㅇㅢ ㅇㅣㄴㅍㅔㄹㅡㄴㅗ), Bulkkoch-ui Inpeleuno ; Japanese: 炎のインフェルノ , Honō no Inferuno) is a manhwa by writer Lim Dall Young and artist Kim Kwang Hyun. Aflame Inferno deals with the interaction between demons (Tedra) and humans, in a world where humans do not know demons exist, and demons live in an alternate dimension (Hell).
Original manhwa
Edit
Main article: Aflame Inferno (manhwa)
The original manhwa started publication in 2006 in Korean for South Korea. It was published by Haksan in serial publication.
The Japanese edition started publication in 2008 by Kill Time Communication, in serial publication in the monthly pulp manga magazine Comic Valkyrie in Japan.
Derivative works
Edit
A hentai doujinshi story, Emotion Complementation Project, written by Moonzero and drawn by Eldo, was published in the hentai doujinshi anthology Cross Make 2009. It is an official doujinshi entry in the Aflame Inferno works.
External links
Edit
Ad blocker interference detected!
Wikia is a free-to-use site that makes money from advertising. We have a modified experience for viewers using ad blockers

Wikia is not accessible if you've made further modifications. Remove the custom ad blocker rule(s) and the page will load as expected.